Upcoming Events and Information
If you would like to receive emails from our D15 Caucus about our upcoming events and volunteer opportunities to help elect Democrats please EMAIL - SIGN UP HERE
District 15 Legislative Town Hall

Montgomery County Democratic Party
Sunday, Jan. 5 from 2 to 4 pm
Waters Landing Community Center
20000 Father Hurley Blvd. Germantown
Please come to our Town Hall as the new 2020 Legislative Session begins. You will have a chance to let your Representatives know what issues matter to you the most. To sign up, please go to
Town Hall Signup
Voters Needed - help others register and vote
Early Voting (Primary): Thursday, April 16-23, 2020
Election Day (Primary): Tuesday, April 28, 2020
Early Voting (General): Thursday, October 22-29, 2020
Election Day (General): Tuesday, November 3, 2020
Precinct Official Spotlight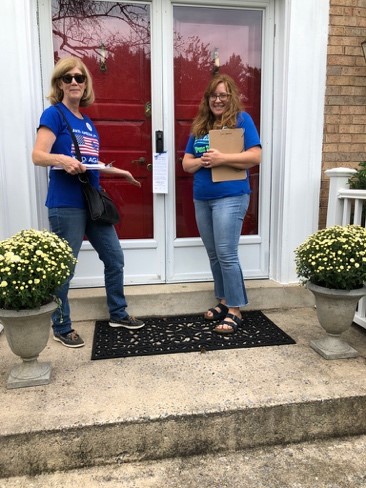 Ginger Macomber, Lisa Kenigsberg and Lori Marks
We highlight our exceptional Precinct Officials at Wayside Elementary School in District 15. Ginger Macomber, Lisa Kenigsberg and Lori Marks were quite sophisticated in their efforts to canvass their neighborhood.
First, they used VAN, the Democratic database, to create Walking Turfs. Their Precinct has 1300 Dems and 700 doors, so they created 24 turfs with about 30 doors in each turf.
Second, they created a mailing address. They wanted people to be able to contact them to volunteer, or for questions, so they created a gmail account.
Third, they created handout material. They used palm cards made of cardstock and a ribbon for doorknob hanging. On one side they introduced themselves, gave polling information and their contact information. On the other side was Legislative Contact information specific to their precinct.
Fourth, they ordered Make America Kind Again T-shirts and were ready to go.
Lastly, a formatted thank you to those who gave contact information. D15 has a mailing list, so we can keep in touch. EMAIL - SIGN UP HERE
Kudos for the team for their hard work and good planning!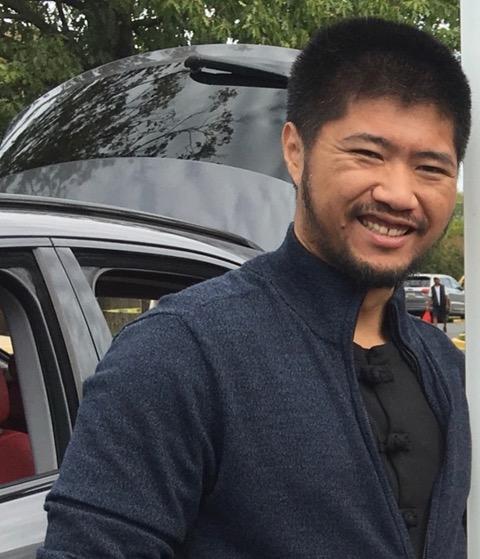 Jay Guan
D15 would like to highlight our outstanding precinct official Jay Guan, Chair at Wilson Wims Elementary School in Clarksburg. Jay set up a letter writing party at the Clarksburg Village Clubhouse. This attracted a large number of participants from this upcounty area which is in the process of becoming more active. Last spring, Jay suggested holding a forum on transportation, which is a major issue in many upcounty neighborhoods. As a result, Delegate Fraser-Hidalgo organized a Traffic Forum in Germantown in October, which was a huge success!!! Because of Jay, Democracy is at work.
All of the following precinct official positions in District 15 are VACANT!
Do you vote at one of these locations? Apply Now
02-02 Kingsview Middle School, Vice Chair
02-03 Waters Landing Elementary School, Vice Chair
02-04 Lake Seneca Elementary School, Chair
02-07 John T Baker Middle School, Chair and Vice Chair
02-10 Little Bennett Elementary School, Chair and Vice Chair
03-02 John Poole Middle School, Chair and Vice Chair
04-12 Winston Churchill High School, Vice Chair
04-29 Cold Spring Elementary School, Vice Chair
04-35 Shady Grove Conference Center, Vice Chair
06-01 Jones Lane Elementary School, Chair
06-02 SS. Peter and Paul Orthodox Church, Chair
06-15 Northwest High School, Chair and Vice Chair
10-05 Herbert Hoover Middle School, Vice Chair
11-00 Monocacy Elementary School, Chair and Vice Chair
Our State Legistators
Brian Feldman

Kathleen Dumais

David Fraser-Hildago

Lily Qi

Precinct Maps and Boundaries
Resources
District Officers
Chair: Gael Cheek
Vice Chair: Kathy Deerkoski
Secretary: Ginger Macomber
Treasurer: Larry Arch
MCDCC Liasons: Linda Foley, Tony Puca, Marjorie Goldman